U.S. Import Prices Fell 0.3% in February Prices for imported goods fell last month in a sign that global economic weakness, the strong dollar and cheap oil may continue to curb overall U.S. inflation.
Import prices decreased 0.3% in February from the prior month after falling a revised 1% in January, the Labor Department said Friday. It was their eighth consecutive monthly decline (…).

Import prices were down 6.1% in February from a year earlier, the 19th straight annual decline but the smallest annual drop since December 2014. (…)

Prices for non-petroleum imports decreased 0.1% in February from the prior month and were down 2.9% on the year.

But excluding both fuels and food, import prices ticked up 0.1% last month from January, their first increase since May 2014. They fell 2.5% from February 2015. (…)

Friday's report also showed export prices in February fell 0.4% from the prior month and were down 6.0% from a year earlier.
Output jumped 2.1 percent in January from December, helped by growth in Germany, France and Italy, the Eurostat statistics office in Luxembourg said on Monday. From a year earlier, production rose 2.8 percent, the biggest annual jump since 2011.
Here's the meat from Eurostat:
Markit's Eurozone manufacturing PMI dropped from 52.3 to 51.2 in February:

Manufacturing production rose at the slowest pace for a year, as rates of expansion in new business and new export orders eased to the weakest since April 2015 and January 2015 respectively. (…) The subdued performance of the 'big-two' nations also weighed on the euro area PMI, with growth in both Germany and France only slightly above the stagnation mark. The rate of expansion in German manufacturing output was the slowest since December 2014, as growth of both new orders and new export business eased further.
China Economic Data Paints Gloomy Picture Industrial production weaker than forecast for first two months of 2016, while retail sales miss usual Lunar New Year jump
Industrial production grew 5.4​% in January and February compared with a year earlier, down from December's 5.9% pace, according to government data released Saturday, and just below the 5.6% forecast by economists polled by The Wall Street Journal. Meanwhile, retail sales clocked 10.2% growth in the two-month period, slower than December's 11.1% increase. (…)

One area that did pick up was investment in factories, buildings and other fixed assets, which increased a faster-than-expected at 10.2​% year-over-year in January and February, compared with a 10% increase for all of 2015. Economists said that boost came largely from government spending on infrastructure and from investment in parts of the overbuilt property market. (…)

Jiang Yuan, an economist with China's National Bureau of Statistics, said makers of steel, cement and tobacco reduced output in response to slack demand. (…)

Housing sales rose 49.2% year-over-year during the January-to-February period, compared with a 16.6% increase for all of 2016, the statistics agency said. Property investment growth is up 3% so far this year, compared with a 1% increase for all of 2015. (…)
China Speeds Up Bad-Loan Help for Banks Chinese regulators are speeding up ways to help banks shed bad loans, but some of the measures risk keeping "zombie" companies afloat while making lenders even more strapped for capital.
A main feature in a plan outlined by central-bank and regulatory officials over the weekend would be to let banks sell dud loans to investors either by repackaging them as securities or transferring them to special asset-management companies that handle distressed debt.

Senior executives at China's Big Four state-owned banks say regulators are also exploring ways for banks to exchange bad loans for equity in certain too-big-to-fail companies—a potentially controversial step that they say could saddle banks with near-worthless stock and squeeze their liquidity.

Bank of China Ltd., one of the top four lenders, recently agreed to become the largest shareholder in a publicly traded shipbuilder under the yet-to-be-disclosed plan, people close to the bank say. (…)

Current banking rules generally forbid commercial banks from taking stakes in nonfinancial entities. But regulators, led by the powerful government commission overseeing state assets—known as the State-owned Assets Supervision and Administration Commission, or SASAC—are pushing for changes in the rules to help heavily indebted state companies cut debts. Corporate debt now amounts to 160% of China's gross domestic product, according to Standard & Poor's Ratings Services. That is up from 98% in 2008 and compares with a current U.S. level of 70%. (…)

But many bankers think such swaps should only be allowed on a limited scale. By exchanging loans for equity that would be worth little if the companies already are struggling to pay off debts, banks would be required to sharply bump up the amount of capital they set aside against such equity holdings, which are considered more risky than loans. That would strain their liquidity.

"It doesn't sound like a great idea to save zombie companies with zombie banks," saidLarry Hu, China economist at Macquarie Securities, a Sydney-based investment bank.
The FT's Lex column details two harbinger deals:

(…) Focus is returning. On Monday, Hong Kong-listed SOEs Citic Limited and China Overseas Land and Investment announced details of a property asset reshuffle. In a deal worth nearly $5bn, conglomerate Citic will sell its residential property projects to developer Coli in return for new shares and Coli's commercial real estate assets.

For 1.6 times 2015 book value, versus its own valuation of 1.4 times, Coli will add 50 per cent to its land bank in top tier cities, such as Beijing and Shenzhen, where land is increasingly scarce. Citic, for its part, offloads the development burden but maintains an interest in the upside through its one-tenth stake in Coli. Not perfect focus, perhaps, but a good way to encourage further rationalisation in the sector.
China's property blue-chips have been busy. In the second of two deals outlined on Monday, Hong Kong and Shenzhen-listed developer China Vanke said it will buy projects from Shenzhen Metro, an unlisted state-owned enterprise which develops the city's metro lines, for between $6bn and $9bn in total.

Full terms have not been disclosed, but the deal looks canny. Vanke is in the midst of a control battle with an "unwelcome" major shareholder, Baoneng group. If Vanke issues new shares to fund most of the purchase, as it has intimated, Shenzhen Metro could end up with one-fifth of the enlarged share capital, Credit Suisse estimates. This would dilute Baoneng's stake, putting more of the company in friendly shareholders' hands. The market liked the strategy: Vanke's H shares rose 10 per cent. The company says it is in talks for other deals. A lack of available prime land in China is spurring consolidation. Expect more.
Iran oil production increase
Iran plans to increase production to 4 million barrels a day, an increase of 33 percent over February's output, before it will join other suppliers in seeking to balance the global oil market.
(…) A recent research paper by Claudio Borio at the Bank for International Settlements argues that bank profitability is damaged in a non linear way when interest rates fall and yield curves flatten, and that applies in spades when rates go negative. Borio says that negative rates "could cripple banks' margins, profitability and resilience". The markets cannot be expected to ignore such profound effects on the financial system.

Negative rates should therefore be shelved by the central banks as a policy tool. They might even be counter-productive.

However, that does not mean that there is nothing left in the locker, as Mr Draghi demonstrated on Thursday. The announcement included new purchases of corporate bonds, opening the way for future purchases of private sector assets, where the potential is very large [1].

More important in the immediate term, the package used a massive new TLTRO to inject liquidity and reduce banks' funding costs, thus protecting the profitability particularly of the weakest parts of the banking sector in the face of negative rates.

It will simultaneously increase the likely size of the ECB's balance sheet to 40-50 per cent of GDP, depending on the take up of the TLTRO (see this Fulcrum analysis of the measures). This is much larger than the size of the ECB balance sheet at the previous peak in the euro crisis of 2012:

The effectiveness of this method to protect the banks was reflected in the jump in their share prices after the ECB meeting. But it cannot be used again and again, because the maximum size of the TLTROs is limited. Mr Draghi therefore conceded that the ECB is probably now at the effective zero lower bound. Central bankers have been searching for it, and now they have found it.

The ECB's massive shift back to an earlier form of "alchemy" will be an acid test for the future of unconventional monetary easing. There are certainly legitimate doubts about its effectiveness. But at least it is not going down a path that is actually counter-productive.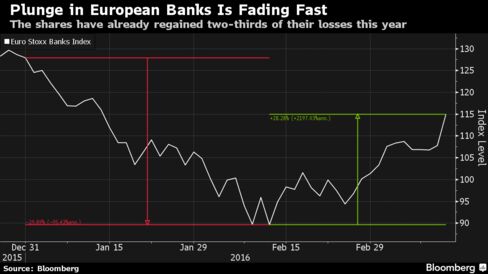 SENTIMENT WATCH
Stocks Rise as Investor Confidence Improves Global stocks were mostly higher, extending a month-long rally spurred by rebounding commodities prices, central bank stimulus and improving U.S. economic data.
(…) Stocks around the world have risen for the last four weeks, rebounding from steep losses earlier in the year as commodities prices showed signs of stabilizing and U.S. economic data improved. Wall Street is now close to where it started the year as fears around a U.S. recession have sharply diminished. (…)
(…) Below, we chart the credit default swap spread for the investment grade ("Main") and high yield ("Xover") CDS indices tracking European corporate default risk. As shown, default risk pricing has plummeted off recent highs over the last month or so. Given the introduction of several new ECB policies yesterday (expanded QE; purchases of nonfinancial, investment grade corporate debt; new refinancing programs; incentives to reduce the impact of negative interest rates on banks and spur lending) we think the outlook for European credit and equities is quite constructive.
Standard & Poor's 500 Index constituents are poised to repurchase as much as $165 billion of stock this quarter, approaching a record reached in 2007. The buying contrasts with rampant selling by clients of mutual and exchange-traded funds, who after pulling $40 billion since January are on pace for one of the biggest quarterly withdrawals ever.
While past deviations haven't spelled doom for equities, the impact has rarely been as stark as in the last two months, when American shares lurched to the worst start to a year on record as companies stepped away from the market while reporting earnings. (…)

Companies executing repurchases through Bank of America Corp. have bought about $9 billion of shares in 2016, the second-busiest start to a year since the bull market began in 2009, the bank said in a research note last week. Other trading clients have been net sellers, with hedge funds leading the pack, dumping $3.5 billion.

Assuming Bank of America maintains a roughly 8 percent share in the total buyback pool since 2009 and the pace of transactions lasts through the end of March, corporate repurchases may reach $165 billion this quarter, data compiled by Bloomberg show. That would bring the 12-month total above $590 billion, an amount that's higher than the record $589 billion in 2007. (…)

Should the current pace of withdrawals from mutual funds and ETFs last through the rest of March, outflows would hit $60 billion. That implies a gap with corporate buybacks of $225 billion, the widest in data going back to 1998. (…)

After rising an average 37 percent in the previous five years, repurchases grew less than 4 percent in 2015. During the last two decades, there have been two times when earnings contractions lasted longer than now. Both led companies to slash buybacks, with the peak-to-trough drop reaching an average 62 percent. (…)
Wait! Wait! Somebody must be buying stocks here!
In mid-January, the S&P 500 Index (SPX) slipped back into correction territory, small-caps officially entered a bear market, and the number of self-proclaimed bulls hit its lowest point in more than a decade, per the American Association of Individual Investors (AAII) survey. Since then, however, the bulls have re-emerged with a vengeance — and these tidal waves of optimism have historically preceded major S&P rallies.

Specifically, the number of self-identified AAII bulls has surged nearly 109% during the past nine weeks. Since 1987, this is just the 19th occurrence where the number of bulls has more than doubled in such a short span, according to Schaeffer's Quantitative Analyst Chris Prybal. The last time this happened was October 2010, which preceded a one-year (252-day) rally of 66.6% for the S&P 500 Index.

What's more, the SPX has averaged a one-year return of 49.1% following these signals, and has been positive a whopping 83% of the time. For comparison, SPX's average one-year return is 8.6% since 1987, with 77% positive. In fact, the last time the S&P was negative one year after this signal was 2006, just before the dawn of the financial crisis — and the index was only 0.3% lower one year out.

Further, across all time frames that we measured, the S&P has outperformed following a massive rush of AAII bulls. For instance, 10 days after a signal, the index has averaged a gain of 1.6%, and has been positive 72% of the time. The SPX's anytime 10-day return since 1987 is 0.3%, on average, with just 59% positive. This, combined with the fact that March and April are historically good times to be long, could suggest even more upside ahead for stocks.
Fred sent me this link before what seemed like a weekend during which I could finally relax after months of hard work with our house renovations…83% probabilities with an average positive return of 60% vs –6% average negative return after 12 months! Unbelievable!
I did not believe it.
I have previously written on investor sentiment surveys before…
…essentially to lay down the facts and show that these surveys are generally not useful when sentiment is positive but have been useful when investors are generally bearish in a contrarian sense which is what one would expect given crowd theory. I mentioned the recent negative (bullish) sentiment readings in UPGRADING EQUITIES TO 3 STARS on Feb. 16:
Some of the best conditions for a meaningful rally are present: significant undervaluation coupled with very negative sentiment and media narratives.
The AAII sentiment index has since materially reversed as this chart from Ed Yardeni illustrates. The contrarian in me would want to curb his enthusiasm as a result but Schaeffer's article suggests to "comfortably" keep surfing on this sentiment reversal for another 12 months. This after the S&P 500 Index clocked in +12% in 4 weeks. And this given the notoriously fickle and volatile AAII members feelings.
The Bearnobull in me always checks out the facts. FYI:
I have not found how Schaeffer calculates the SPX rates of return. First on the list is 10/28/1988 with a declared +65.3% return over the following 12 months. The SPX closed at 279 in Oct. 1988 and at 340 twelve months later for a 21.9% gain. Last on the list is 10/22/2010 with a declared +66.6% return over the following 12 months. The SPX closed at 1185 in Oct. 2010 and at 1255 twelve months later for a +8.4% gain. Other spot checks yield the same puzzling discrepancies. For example, the 5/2/2008 signal is said to have preceded a 7.4% advance in the SPX during the following 12 months. As most investors know, the SPX closed at 1413.90 on May 2, 2008, slid 53% all the way down to 666.79 on March 6, 2009 to bounce to 877.52 on May 1, 2009. There is just no way to find a positive return during that period unless one begins on March 6, 2009.
Interestingly, however, the percent positives remain at 83% even though the average positive was a much more modest +8.5%, in line with the average 12-month return since 1987. The average negative was –23.7% but there were only 3 of them.
There were 7 sentiment surges during the 4 years between 10/1988 and 10/1992 while the SPX rose 50%. There are many overlapping periods here.
Same between 8/2000 and 4/2003 when there were 4 sentiment surges within 32 months for a net SPX gain of 1.8%, assuming one had money left after losing 34% during 2000 and 2001.
There were also 3 sentiment surges between 4/2009 and 10/2010 while the SPX gained 36% in 18 months.
One could sum up this 22-year period in 3 big blocks: 1988-1992 (7 sentiment surges in 4 years ), 2000-2003 (4 in 2.5 years) and 2009-2010 (3 in 1.5 years). These 3 periods totalling 98 months (out of a total 264 months) contribute 14 of the 18 identified occurrences. In total, this means 14 sentiment surges in 8 years. Investors seem to get bullish 1.7-1.8 times per year. Remember that before there is a surge, there normally is a collapse. Here's a chart (from Bespoke Investment) illustrating the moodiness of AAII members during a period when it was best to stay calm and pretty well invested…
The Investors Intelligence index, created in 1963, is more useful. It studies more than 100 regularly published advisory investment newsletters, assessing their stance on equity markets. Here's what I wrote in 2010,
I have analyzed 30 years of data plotting the II bull-bear % difference against the DJ Total Stock Market Index of 5000 US stocks. Extreme readings are above +/-25%. However, I have easily identified 11 periods when the "contrary" indicator rose to cross the extreme +30% level which were followed by strongly rising markets. Obviously not useful on that side of the ledger.

There were only 9 extreme negative readings (bullish signals) since 1980. The numerous 1981-82 readings <-25%, taken together, could be seen as indicating a major bottom, but only if you survived the 3 false signals between the fall of 1981 and the actual mid-1982 much lower low. The 1988 signal was good. The early 1990 signal was too early but the one in mid-1990 was excellent. The two signals in 1994 proved great, like the ones in late 2008.

Overall, never mind the extreme positives, they are essentially useless. The extreme negatives (bullish) are few but generally very good although some require patience and staying power. Ed Yardeni has the 2 smart charts on II:
Buying cheap equities when everybody is negative is the best winning formula. This is why I spend most of my time on valuation, earnings and sentiment. The Rule of 20 keeps beating every other valuation methods I know while using no forecast, only trailing data. The II bull/bear ratio combined with a thorough monitoring of media narratives provide the sentiment input.
The next chart illustrates the extreme valuation swings investors can "safely" exploit, "buying low" and "selling high" using trailing data, discipline and patience.
(…) Until the late 1990s, fund managers kept much more set aside for a rainy day; between 1986 and 1995, stock funds held an average of 9% in cash. But, as of this Jan. 31, the average U.S. stock fund had only 2.9% of its assets in "liquid assets" (cash and other readily saleable securities), according to the Investment Company Institute, a trade group for the fund industry.

Why have funds been shedding cash? The answer to this seemingly small question reveals bigger truths about how markets are likely to behave in the next downturn. The ascendancy of index funds, those autopilot portfolios that hold all the stocks in a market, has made holding cash into something like a sin. In the next severe decline, only those with cash will be able to buy — but many fund managers won't be in that group.

For active stock pickers, the math is cruel: All else equal, if stocks rise 20%, then a fund with a tenth of its assets in cash will generate only an 18% gain before expenses. So the more cash stock pickers hold, the likelier they are to underperform in a bull market — and to turn off existing and future investors.

And with the Federal Reserve squashing interest rates toward zero after the financial crisis, cash no longer adds anything to fund returns.

But might this trend have gone too far?

"My preference is always to give my managers room to duck," says David Snowball, editor of Mutual Fund Observer, a non-profit website that analyzes fund performance. "I would much rather outsource the decision on when to hold or invest cash to someone who is paid to obsess about it on my behalf."

If you're going to use any active stock pickers at all, surely you should trust them not only to pick which stocks to buy but also when to buy them — and when to let cash build instead.

A few fund managers still do that, but it isn't easy to go against the grain. (…)

In 2009, 4.1% U.S. stock funds had at least a quarter of their assets in cash, according to Morningstar; today, only 1.6% do. (…)